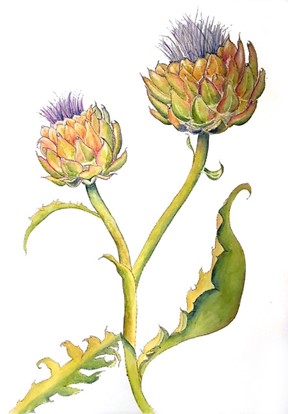 We have art hanging on our walls again for the first time in quite a while.  Come check out the show.
BUGS AND BOTANICALS
by Pam Stokes
Artist Statement
I started painting in my forties with absolute beginning drawing and watercolor classes.
I loved the immediacy of watercolor and how different it could look depending on how you apply it. It seemed magical to me how layering coats of paint could change the colors and bring the painting to life. Watercolor can be bold and dramatic, but I always favored the delicate details that watercolors can highlight.
I have also been involved in the Urban Sketching movement and love meeting with fellow sketchers at locations around the city to sketch and paint in our notebooks. It's a wonderful welcoming community for any level of artist. I keep trying to sketch buildings and landscapes, but I am continually drawn to the smaller details like plants or small details of a building instead of a larger cityscape.
The organic shapes in the small details of nature have always intrigued me: the patterns of leaves, the graceful points of rose hips and dried pods and flowers past their prime are more interesting to me than a rose at perfect bloom.
Wednesday-Sunday, 12-6PM