It is good to be in the present and also have an eye to the past.
Today we'll be pouring a pure Mourvedre from the Languedoc.  A nice easy look at the character of the varietal. This isn't a "baby" Bandol, just good pure fruit.
2019 Les Jamelles, Mourvedre Cepage Rare  $13
IGP Pays d'Oc
This Languedoc pure varietal has spicy aromas reminiscent of wild Mediterranean herbs, notes of marzipan, honey, lavender, thyme and bay leaf along with a hint of roasted meat. On the palate, it is surprisingly long and full bodied with well-balanced tannins.
And now a bit of the past — C. H. Berres library release offer.
The Berres family is recorded to have resided and worked in the vineyards of Ürzig since the year 1510.  Markus Berres, 21st generation, has took the helm of this prestigious Mittel Mosel estate in 2004.  The estate retains nearly 10 acres of old, ungrafted Riesling vines in the best sites, including Ürzig's famous Wurzgarten.
Today we offer you a chance to pre-order some very limited Rieslings from the vaults. Please make your requests no later than Wednesday March 15th.   These wines are a few weeks to a month out for delivery.   All orders subject to availability.  1st come 1st served.
Berres, Urziger Wurzgarten Riesling Kabinett 2010- $25
Limited
This is a very traditionally crafted wine out of the Ürziger Würzgarten vineyard. A bouquet of white peach with citrus and exotic passion fruit. On the tongue the Kabinett presents fireworks of luscious fruitiness. The sweetness is well integrated and harmoniously balanced. In the mouth a bounty of exotic fruits paired with spiciness and minerals from the unique soils of Würzgarten. Finishes very fresh and lively. A very authentic Mosel-Riesling!
Berres, Urziger Wurzgarten Riesling Spatlese 2002- $32
Limited
A very traditional wine from the Ürziger Würzgarten vineyard. It is a full-bodied, rich style Spätlese which is very nicely matured. This Riesling is very juicy, the residual sugar and acidity are well balanced. The wine has a good fruit, and offers a round, wellbalanced acidity. In the nose ripe air-dried fruits such as raisins and apricot, paired with herbal spiciness and green-tea flavors.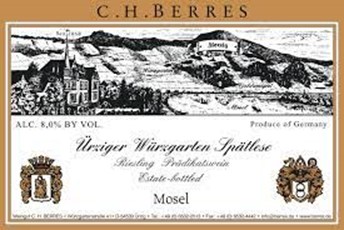 Shop Hours
Wednesday-Sunday, 12-6PM