It is a busy weekend here at the wine shop as we wrap up January.
After a long dry spell we have two new Italian Olive Oils here at the shop.  Life isn't just about wine.
Petrizzelli Extra Virgin Olive Oil  $20
The Petrizzelli is made exclusively from the Coratina Olive a very small, low yielding varietal that rewards those who have the patience to work with it.  Cold pressed.  Organic
2022 Poggio la Noce 100% Organic Extra Virgin Olive Oil  $30
Tuscany
A high-quality pure Extra Virgin Olive Oil with elegant aromas, cultivated and pressed directly at the estate, within hours of harvesting, using onsite press. Cold pressed. Organic
But of course a lot of it is about wine.  Saturday we'll be pouring:
2019 Alary La Grange Daniel  $15
Grenache, Syrah, Mourvèdre, Cinsault, Counoise, Cabernet Sauvignon, Merlot
from a plethora of grapes grown on clay soils at the foot of the plateau of scrubland in Cairanne.  Aromas are of red cherries and garrigue. The palate is mid weight or a little bigger with brambly red fruit, plums, milk chocolate, mineral and stone. This is very tasty with pleasant acidity and integrated tannins.  Organic
With that many grapes how can you go wrong?
And then Sunday:
The artist reception for
Natural Things — Choses Naturelles 
Renée Simard
3 to 5 pm
Come meet Renée and see the new show.
Natural things. On walks, the beauty I see in trees, fruits, bushes, mosses, new buds, or even, wilting flowers often stop me in my tracks. Images strike me and I can't wait to put them on canvas. My eyes are attracted to colors and movements. My head is preoccupied by thoughts, sounds, and even smells. The world we live in provides endless opportunity for distraction and inspiration…
The oil paintings and silverpoint drawings I am honored to show here illustrate moments when I filter out stimuli. This series, titled Natural Things – Choses Naturelles, represents part of my artist's relationship with nature.
White calla lilies, for example, are exasperating and aren't white! Their leaves are green, yellowish at times, blueish green, often pure color with all its brightness. Depending on weather, time of day, surroundings, the lilies' single petal (a spathe) shifts from grey to yellow to blue to green, even a touch of purple. These flowers make challenging models: simple, elegant, shapely. Fascinating! Did I mention that slugs love them too?
My Madrona garden's calla lilies hold a special place in my heart for the sweet neighbor who shared rhizomes shortly after I moved here. I started sketching them years ago and I still discover new shapes. Feels like I am in the art studio attending a live model session with two-minute poses! Still life…not so still!
— Renée Simard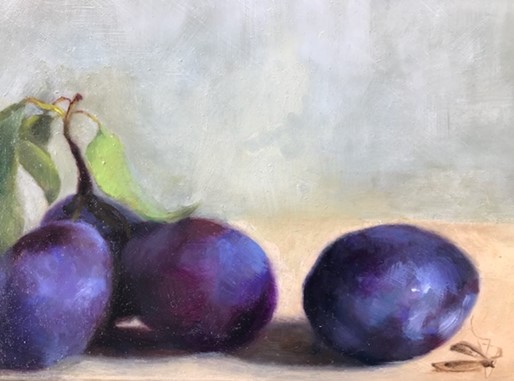 Shop Hours
Wednesday-Sunday, 12-6pm