Two from La Spinetta

Looking for big game this weekend?  Try these two wines from La Spinetta's Tuscan property.
2021 La Spinetta, Il Rosé di Casanova  $20
50% Sangiovese, 50% Prugnolo Gentile
Tart and juicy, with citrusy grapefruit and tangerine dominating the nose and mouth, the wine's aromatic profile is enriched by white peach and strawberry and floral and mineral notes. This Rosè shows great clarity, with a suave, penetrating finish that lingers with a floral tenacity.
2018 La Spinetta, Il Nero di Casanova  $18
100% Sangiovese
Aromas of wild cherry, black currant and sweet plum. On the palate, this wine offers silky tannins and a fruity chewy finish as well as lots of cherry with elegant richness. A funky and intense wine.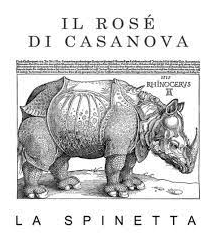 Shop Hours
Wednesday-Sunday, 12-6PM