Two old Bordeaux that are new to our shelves.
We love old Bordeaux, and we love to drink it without hitting our cellar.  Here are two new arrivals that would go nicely to your table or to your cellar.  We were able to grab a few case of each of these, but we are willing to share.
2011 Chateau Malaison, Moulis en Medoc  $25
80% Merlot, 20% Cabernet Sauvignon
An old Bordeaux estate bought by the Rothchilds in 1978 and revitalized.  Fresh fruit (black currant and plum) aromas, a touch of menthol, and delicate hints of oak. The wine starts out rich and full-bodied, going on to show considerable elegance and a fine balance between well-focused, velvety tannin and acidity that contributes freshness and length.   Was 38 Now $25
2010 Château du Grand Bos, Graves  $35
47% Cabernet Sauvignon, 45% Merlot, 8% Petit Verdot.
A steal in an aged Bordeaux from a great year.  Medium-to-full-bodied, it envelops the senses with ripe blackberries cassis, and black cherries, with layers of vanilla, saddle leather, tobacco, savory herbs, graphite, and cedar adding depth and dimension. The tannins are firm yet plaint, making this beauty drinkable now with a brief decanting but also giving it considerable aging potential.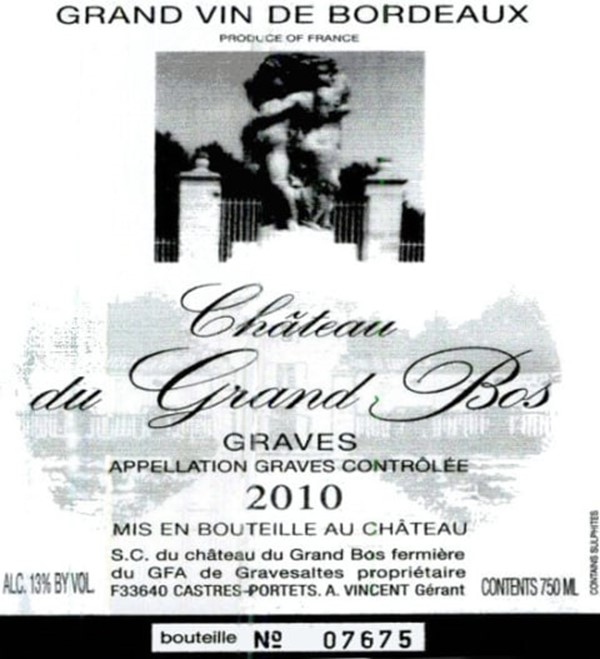 MASK UPDATE
Per Governor's Order
Masks Are No Longer Required Inside
If you are masked,
and would prefer that we be masked,
please ask and we will be happy to mask up.
Hour: Wednesday-Sunday, 12-6PM