Madrona businesses will be handing out candy on Saturday the 29th.  Bring your little goblins and have then come gobble up the neighborhood.  We just might have something ghoulish for the parents as well.
Get Ready for Halloween
The Day of the Dead is coming right up, but the wine of the dead has already arrived.  We have two wines from Vinos de los Muertos, a winery in New Mexico, on the shelf right now just waiting to be taken home for your Halloween party.
Vinos de los Muertos, Blanco Dulce Sweet White  $11
Moscato
From New Mexico a sweet, aromatic, white blend composed of Moscato. Lovely with flavors of light minerals, white flowers, honey, pears and nectarine. Refreshing & full of festive flavors!
11.0% alcohol by volume
Vinos de los Muertos, La Sangre Dry Red  $11
Sangiovese, Zinfandel, Ruby Red
New Mexico
A dry red blend composed primarily of Sangiovese, Zinfandel, and Ruby Red with notes of violets, cherries, fruit and spice. Lightly peppery with cherry accents and light leather.
12.5% alcohol by volume
Open for tasting this Thursday!
2018 Casas del Toqui, Reserva Carmenere (Barrel Series)  $15
Chile
Carmenere (a minor Bordeaux grape) thrives in Chile.  Aromas and flavors of roasted red pepper, grilled pumpkin, blackened pepita, and mole negro with a satiny, bright, fruity medium body and a smooth, medium-length finish revealing notes of mango and licorice with moderate oak flavor.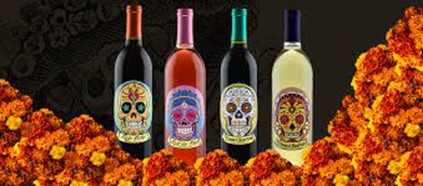 Shop Hours
Wednesday-Sunday, 12-6PM